PAYBACK TIME



A counterbalancing bit of good news came in the form of a personal visit from General Harrison himself. He came with a report that the unknown forces had attached a Russian Tukhachevsky Base and that he wanted to attack the weakened base before the Russians were able to reinforce it.

Me, I was more concerned about another, unknown force that was strong enough to attack both us and the Russians at once, but orders are orders, so we set out.

We got an update from the General when we neared the base. We were to surprise the enemy, strike, and then withdraw, but first, we were to meet one of our intelligence officers, who was waiting to the south of our position. It seemed simple enough until two anti-personnel turrets lit into us while we were walking in between some hills. Since there was one turret on each hill, there was no flanking them. I told the vehicle escort to push on through and destroy their power source, after which we made extra sure that they wouldn't bother us on our way back.

Soon after that, we found our spy, who was none other than Frank, who was busily engaged in teaching some of the Apemen to dance. Once I had interrupted his little lesson, he had some bad news for us. Although the Russian base had few personnel remaining on site, it was heavily fortified with the auto-turrets that we had encountered before, with redundant power supplies, so we couldn't repeat our little trick from before. The entrance that Frank had used might be fine for stealth, but it looked like a deathtrap for direct assault, so we decided to skirt the base and find a better approach. We circled around to the eastern edge of the base, cleaning up some light resistance along the way, and saw an abandoned vehicle, an indicator of just how bad the situation at that base was. We promptly stole it, never being the kind of people to look a gift horse in the mouth. Since there was a ridge nearby that overlooked the base, we were able to weaken it some by destroying some power stations within the base. Although we couldn't get them all that way, using radar to spot the others and taking advantage of the new cannons superior range, we were able to complete the job. Once that was finished, we moved in for the kill, and had gotten a good start on reducing the base to rubble when the General radioed, saying that the Russians had a unit that was uncomfortably close to Gamma. Once we finished our main objectives, we were to head back as quickly as we could come, in case the base came under attack.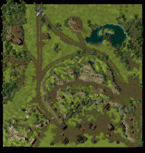 Introduction

Mission 1

Mission 2

Mission 3

Mission 4

Mission 5

Mission 6

Mission 7

Mission 8

Mission 9

Mission 10

Mission 11

Decision

Mission 12

Mission 13

Mission 14

Mission 15