DECISION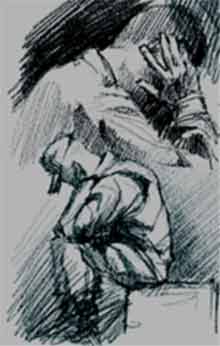 It was a white Christmas at Alpha. Although it looked great, the conditions were terrible, and it was looking to be an awful winter. The heat was shot and it was dropping down to damn near negative 12 Celsius. Although Iíd normally complain, but the war had stopped for the moment. No one had anything that could get through all this snow, and no one had brought enough heavy clothing to be out fighting in it, anyway. So a momentary respite. Merry Christmas.

I had a terribly disquieting talk with Pete Roth. It seems that he has some grand idea for a siberite bomb. He says, with a maniacal gleam in his eye, that we could make a bomb that would make nuclear weapons look like firecrackers. Since then, Iíve had some understandable trouble sleeping. Something like that could leave this planet a barren rock.

Powell and Roth had a fight about it though. Roth is very comfortable with the bomb staying at the idea stage, but Powell seems to think that it should be carried through. Heís said that thereís to be no more research on any of the EON-like artifacts until the bomb has been completed.

As a result, Roth has decided that after the thaw, he is going to go to the Russians and try to convince their scientists to form an alliance, apart from the three national powers. A lot of our scientists are tired of combat, and think much the same thing. Pete asked me to join up with them, but I donít really know what to do. Joan and I have decided, though, that whatever we do, weíll do it together.

It would be nice to put all of this behind me. Iíd love to see an end to all of this combat. The question is, would it be right to leave? Pete plans to sabotage the bomb research here, and he has a Russian contact who says that heíll do the same. He thinks that his Alliance will be strong enough to defeat both Powell and the Russians before Powell is able to complete his bomb research. But I can see this going miserably wrong. One side could end up with the bomb, leaving the other side almost helpless. Perhaps Powell has it right, and we need to finish the Russians in order to secure our objectives in the future. I remain unconvinced by either side, because I still wonder whether there is more than one solution.

But when it comes down to it, Iím a soldier. I swore an oath to my country and the army. If I leave, Iíll just be another deserter. I thought about it for a long time, weighing in the costs and the benefits. In the end, I decided to stay. Pete felt betrayed, but he wasnít too hurt. He knew that Joan was a factor in my decision, and thought all along that Iíd end up staying.

One day once the thaw had started, he disappeared, taking with him several other scientists and almost all the progress on the bomb. Powell was furious, ranting and raving for hours. In the end, he calmed down, and said that he would have Peteís head after he had finished with the Russians. For some time after that, I wondered if I had made the right choice.




Introduction

Mission 1

Mission 2

Mission 3

Mission 4

Mission 5

Mission 6

Mission 7

Mission 8

Mission 9

Mission 10

Mission 11

Decision

Mission 12

Mission 13

Mission 14

Mission 15